Background
Vadan has been a practitioner of the Healing Arts since 1995 and a Licensed Acupuncturist since 2000. While grounded in the traditions of Japanese Acupuncture, Traditional Chinese Medicine and Japanese and Thai Body Work, Vadan's healing work is also deeply influenced by her study of and dedication to a number of healing practices including Hatha Yoga, Qi Gong, Tai Qi, Craniosacral Therapy and Meditation. She is both a Certified Massage Therapist and a Certified Craniosacral Therapist, as well as a yoga teacher in the East Bay.
Experience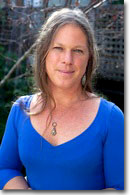 Her extensive clinical experience helping clients includes:
Musculoskeletal issues




Immune system problems




Fertility




Digestive concerns




Repetitive Strain




Neuropathy




Hearing problems




Mental/Emotional issues


Services
A typical session might include Acupuncture, a nutritional consultation, Craniosacral Therapy or other manual Therapies, movement education and therapeutic exercises from the traditions of Hatha Yoga and Qi Gong. An initial consultation includes an interview detailing medical history, lifestyle choices and diet.